Blog detail
#TheMysticSide: You Cant Discover What You Dont Explore
01.01.2019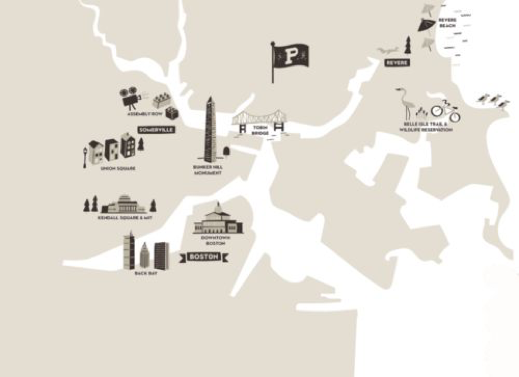 Cities around the world are growing by the second. Shift in population, economy, and even environmental factors play a role in the ever-shifting urban expansion, creating (and bringing back) neighborhoods. When it comes to the housing market, staying informed is key.

The U.S. has seen a significant amount of expansion in cities such as D.C., Seattle, & even Austin, TX coming in as one of the most popular places to relocate. But even with all the new movement, Boston remains a frontrunner in the rankings. Coming in at just 48.4 square miles, next to its (bigger) East Coast siblings Boston still takes the trophy for 2nd smallest major U.S. city (coming in 1st: San Francisco.) Being comprised of approximately 105 neighborhoods, it also comes in as one of the most diverse cities in the nation giving all who choose to call her home an almost unending list of locations to choose from.

Ask any Bostonian: There's a neighborhood known especially for just about anything. If you want handmade, gourmet pizza & pasta everyone knows you want The North End. If you're more of a salt, sand, & city-living type, Southie is where you want to begin your search. Social scene? Seaport. History? Cambridge. Coffee shops & craft beer? South End. Fan of Marylou's Coffee? You better stick to the South Shore. Can't live without Wegman's? North is where you need to be. When it comes to the 105 neighborhoods of Boston, there's a distinct allure to them all. But what if you were searching for ALL of the above? I mean, how could any one single neighborhood boast not only a buzz-worthy food & drink scene, but some of the best parks, beaches, breweries, nightlife, shopping, and hot housing market- ALL while being connected seamlessly by the MBTA's Silver Line? It seems like a unicorn of a place, that's for sure; unless you're referring to The Mystic Side.

FOLLOW TO BASECAMP >>
Founded in 1640, it isn't exactly the 'New Kid on The Block'. Originally coined as Charlestown, this massive plot of land was eventually divvied up into 8 different towns, with three of them being the Trifecta of The Mystic: Chelsea, Revere, & Everett. Headed North on the Zakim Bridge, a look to the left after emerging from the Tip Oneill Tunnel unveils the metropolis of the 'Mystic Side' anchored to the waterline of Boston Harbor by way of Chelsea Creek.. The cityscape gradually begins to shift from the rows of towering high-rises and highways to a collection of classic curated communities and timeless Boston landmarks such as the Schraffts building & Bunker Hill Monument framed in by the sweeping view of one of the most highly photographed bridges in the nation, known only as The Tobin Bridge. Newest on the scene and nestled perfectly into it all: The shimmering tower of Encore Boston Harbor (opening June of 2019.) The birds eye view of The Mystic Side is something to take in, and the streets beneath it map out one some of the best that Boston has to offer. Climbing in popularity with both locals and transplants alike, the 150,000 people (and climbing) that call it home just might be on to something..
A place where you can truly find just about anything you're looking for.... and the first stop lies just under the Tobin Bridge.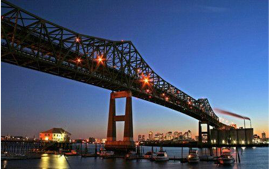 A true pioneer of The Mystic Side,
Chef Marvin Posada along with co-owner Edwin Coimbra brought their first culinary work of art to Chelsea in 2015 with the opening of Ciao Pizza & Pasta catching the attention of Boston Magazine, Phantom Gourmet, and just about every Boston food blog you could think of. The people spoke and Chef Posada listened, and responded with Ciao Market in 2016 offering some of the finest house made gelato, perfectly crafted cappuccinos, and a wine list fit for a sommelier. Just when you thought it couldn't get any better: A third installment of the #CiaoEmpire with Winnisimmet Lounge set to open later this year giving Boston Foodies something to seriously cheer about.
---
Heading North through Chelsea and into Everett you'll find Santilli Circle. There, in the shadow of the famous Teddie Peanut Butter Factory lies The Fermentation District.
Picture the magic of a grown-up Enchanted Village (the original Jordan Marsh version..) crossed with craft beer, food trucks, (good) live music and without all of the creepily haunting animatronic figures. Shortpath Distillery, Night Shift Brewing, & Bone Up Brewing make up the ultimate craft beer & cocktail triple threat. All within steps from one another they also map out one of Boston's best new bar crawls. Enchanted; indeed.
---
Leaving Santilli Circle and headed toward Assembly Row you'll need to pay close attention not to miss the elusive (and ridiculously cool) DTR Brewery. Pulling you in immediately with its graffiti covered walls, vintage arcade games, and award-winning brews makes this pet-friendly brewery it a favorite among beer lovers and dog lovers alike. If you really want to make it a true #SundayFunday, make your next stop Mystic Brewery. Voted Best of Boston in the 2018 Readers Poll and Set to open their second location in Malden, you'll quickly understand why they were voted Best of Boston in the 2018 Readers Poll. Feeling tired on Monday (is that even a question?) – add Common Ground Coffee Roasters on Revere Beach Parkway to your list for brews of a non-alcoholic nature and what just may be the best breakfast sandwich this side of the Mystic.
If you're a fan of cooking at home, you'll find everything you need between Trader Joe's Assembly Row, Chelsea's beloved Market Basket, and TWO Whole Foods Market locations in both bordering Charlestown & Somerville. If all that doesn't do it for you: Wegmans. That's right, we said it. The highly sought-after market opened its newest Massachusetts location right here in Medford. But the best news for urban apartment hunters in search of the perfect kitchen? After an onslaught of electric cooktops, the construction of brand new, luxury basecamp, Pioneer Everett, brings #kitchengoals to a new level with the return of the beloved gas range (No, it's not extinct.)
Ok, ok. Craft beer, hard cider, handmade pasta, Wegman's cheese aisle & breakfast sandwiches; By this point you're probably wondering if we're trying to kill you with carbs. But as any good lifestyle blog would note: Balance is key.
---
Get outside and take that shiny new Cannondale for a spin on the Minuteman Bikeway. If leisurely harborside strolls, stunning sunrises, and sailing lessons are more of your thing, head East to Piers Park. Most importantly, don't forget to bring your best friend (not that one… your REAL best friend) for an off-leash adventure to one of the most dog-friendly places in the city: Fells Reservation. Of course, it wouldn't be the one of hippest Boston neighborhoods without being known for stepping outside box a little (or a lot?) So when your fitness routine becomes to feel a little mundane, don't forget about the indoor rock gym at Boston Boulders. Need more? Test your hand-eye coordination at Archery Games Boston, Revolution Axe Throwing, or Boston Paintball
(Note: Just be sure you don't do the Fermentation District first. It's been said that beer does not mix well with Axes. Or arrows… or paintballing... or rock-climbing. )
What does mix well with beer, is public transit. With access to city bus routes & the MBTA's Orange Line, hacking your commute has never been simpler. And thanks to the MassDOT Silver Line expansion, the Mystic Side is as connected as ever with Chelsea Station providing rapid transit access to the IDBLDG, South Station, & Seaport World Trade Center.

With 105 neighborhoods on the to-do list, not everybody has yet to come to find what lies just on the other side of The Mystic, but a true urban pioneer knows just like anything else in life: You can't discover what you don't explore. Now go forth and venture. #ExploreEverett